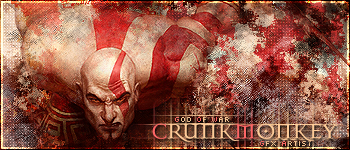 Yay, CC pl0x.
Now HE scares me!
Nonetheless, he is an attractive warrior fellow… Ahem Enough of that.
Good!
[ul]
[li]Render is impeccable.
[/li][li]I like the way you used the render to make background.
[/li][li]Motion Blur on text looks great.
[/li][li]Not too bright, not too dark.
[/li][/ul]
Almost…As Good!
[ul]
[li]Although it is used a whole lot, if you made the standard 3 pixel stroke border, instead of a regular one stroke pixel border with a 2 pixel overlay border inside… Erm, that doesn't make sense. It's great!
[/li][/ul]
Overall, an 8.75/10.
Really awesome, Crunk!
Good things:
[ul]
[li]Good job using the render to make the background. It is easier to make it match that way and it just looks awesome.
[/li][li]The font is really good. Motion blur worked great in this instance.
[/li][li]The border looks very well too.
[/li][/ul]
I can't find anything wrong with it, really
Overall: 9/10
-Nick-
Good Things
[ul][li]The colors are really really good.[]Font is perfect.[]Awsome render[/ul]
[/li]
So, 9/10.
Whoa! Nice work!
Good things:
[ul]
[li]Love the text effect, it goes perfectly with the sig
[/li][li]Once again, I love the background as well, it goes perfectly with everything!
[/li][li]Overall sig looks awesome, all the effects look really good with eachother
[/li][/ul]
Bad things:
[ul]
[li]Needs a matching avvy!

[/li][/ul]
~:darkside:~ Michaelks
W-O-W! Thats amazing! how do you get that backround?
With a series of filters…and grunge brushes.