I know two other people are currently questing for high lvl smithing, but I also am currently on that same track. Coments in this thread are welcomed!

Due to competition I pay 370 gp EACH gold ore. Wont buy less than 100 at a time. I am only buying gold ore because I am getting about 56 smith exp each ore with goldsmith gauntlets (members only).
If you are f2p i think it helps if you can get into the crafting guild (many rocks). See pic below. Also bring your apron to get in =)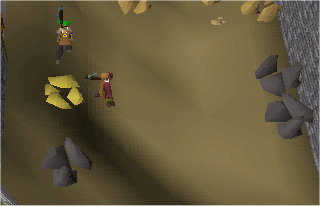 p2p i hear there is a good spot (like 10+ rocks) on brimhaven due west of the dock that goes from ardougne to brimhaven. See Pic below. It costs 30 gp to take boat from Ardougne. Also bring water and laws to make it go by faster.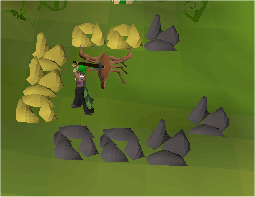 Cash on hand: 5.1 million
Gold ore currently in bank: 1623
Starting Smithing lvl: 79
Starting Smithing exp: 1851007
Current Smithing lvl: 83
Current Smithing exp: 2680267