i am lvl 62 and im looking for a clan, look foward for invitations
Hi
We are the phoenix fighters; we aim at levels 40+ but those slightly less that 40 can enter.
If you are interested please fill out the application below.
Though if you are not a member it does not matter just contact me on the game.
Username:
Combat lvl:
Range lvl:
Mage lvl:
Best non combat skill:
Will you be loyal? :
what is you time zone?:
Will you donate to the clan?:
—Rules—
Follow jagex rules
Respect any other member
Trouble makers will be thrown out
No multi-clanning
Have fun =D
Punishments vary from having to do tasks for the clan and being permanently banned.
—Members—
----Leader—
elvivo1 (that's me=D )-combat 57
—Second in command—
—chriswppaul13—lvl93
–Juibo—lvl 72
—members—
— elvivo1 — Level 57
—chriswppaul13—lvl93–
—kailin190—43—
—stephenyoung—
—jgover0----
—heartofspite----
----hotrod787----
—manderin333—
—jonnyc55—
—4o def ownz—
—jfizzo----
—stargate kid—
–n k puremage—
—cute n wild7—
—p kaustin—
—doobie—
—Permanently banned members—
roobydoo19—
skaranite—
razaben----
----Timetable—
We go by GMT (Greenwich Mean Time)
This is the u.k.
We allow any1 from any countries but it is up to you to join clan activities.
All meetings held world 105(non-mem) at our head quarters which is at edgeville upstairs the general store. All meetings and events are held by GMT.
Monday-clan meeting-7pm -at HQ
Tuesday-day off
Wednesday-short pking trip, or another option chosen by members, meet at HQ 7pm.
Thursday-train up a skill of your choice.
Friday-clan meeting-7pm HQ
Sat-long pking trip! 7pm, meet at HQ.
Sun-day off
Hello i am the leader of the assassins of night clan we have 42 (one unregistered) members. I'm level 93. Our highest level is 101. Our average is about 78. We have a new forum so not every1 has regestered there. Our website is http://assassinsofnight.myfreeforum.org. we have many events including castle wars, tzhaar fight pits, f2p pk trips, we will do p2p when we get more people coming regurly, kbd, 'fun events, fundraisers, drop partys for some holidays, and you can host your own event just don't overlap any other events pre plannedthat are posted. Requirements is level 40+ though some exceptions may vary. Lvl 30+ with a Referall.
Allies:
Ze Bloodz
These are just some i just started taking pics last events so only ones i have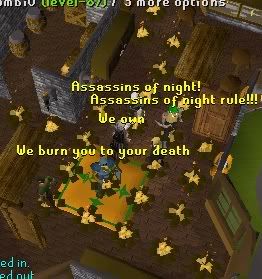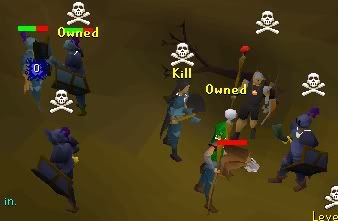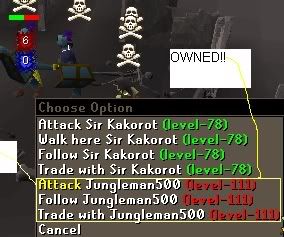 If you want to join an organized, friendly, and wise clan with weekly events and PKing trips, look no further.
Link to Register.(please register with your Runescape Username please.)
http://s9.invisionfree.com/Celestial_Knights/index.php?act=idx
Requirements:
50+ Combat
45+ Combat with 50+ Mage
45+ Combat with 50+ Range
Clan Cape:
P2P- Any Wilderness Cape BLUE
F2P- Blue
Celestial Knights offers a variety of events that has something for everyone whether F2P or P2P. Although you are not required, but expected to make every event.
Some of our events include:
-PKing trips
-Bronze, Iron, Steel wars
-Fire Fests
-Mining and Fishing events
-Skill Training
-Combat Competitions with prizes for winners
-Drop Parties
-Dragon Hunts
-Clan Get togethers
So again, if you are looking for an active clan with many events, and very helpful at that look no further.
Join Saradomin Soldiers
Introduction

How to Apply

How to Allie

Events

Conclusion

Introduction
Hi I have just started this clan April 15th!! We are new but when we get people I know we will be good!! Our cape color is blue for F2p and a sara cape or wildy cape that's blue for P2p!! We are F2p and P2p and you need 60+ combat or 55+ mage or range 50+ combat junior member!! IF YOU APPLY PLEASE REGISTER WITH RS NAME ONLY AND REGISTER BEFORE APPLYING!!
How to Apply
You must have 60+ combat or 55+ mage or range or 50+ combat junior member to join!! When you get to the forum then find apply here and copy and paste the application format into a new topic!! Then after you apply you must register and introduce yourself. The forums site is http://s9.invisionfree.com/Saradomin_Soldiers.
How to Allie
When you go to the forums then you find the forum alliance. After that you will copy and paste the application format into a new topic and wait till one of our leaders or co leaders to accept you. When you are accept you must register.
Events
We will have the events as follows!!!
Snowball Fight
Wars
Pk Trips
P2p Kalphite Queen
P2p KBD
Training Trips (any stat)
P2p Fishing Trawler
P2p Castle Wars
P2p Fight Pits
Monk Wars
Battle Royal
You can also Propose an Event that we could have if it sounds good!!
Conclusion
That is all about the clan and I hope you like us and I will update are events when I get more and we get more active!! Please join us and have a great time!!
We are a brand new clan. We are currently undecided if its a pk or anti-pk clan. Myself, the leader, used to be part of the wilderness guardians till i quit rs for a bit and left the WG so i know whats its like to run a clan. We have a clan website that is there for information.
s9.invisionfree.com/theforsakenclan
please go on it and apply for it if u meet the requirements.
Current requirements are:
70+ combat
or
60+ combat with 60+ range or 60+ magic
or
65+ woodcutting and/or 50+ Fletching(Members Only)
or
50+ cooking and fishing(for now)
or
50+ mining and smithing(for now)
When we have many members we will do anual events such as drop parties, Kalphite Queen runs(members only), treasure hunts, KBD trips(members only)
and Pk trips(if we decide to be pk clan, plus occasional clan wars.
I will be assigning leaders and mods for the clan and website, so the first few to join if they wish may become 1 of these if they are worthy of the spot.