stats r right below…
no wildy clans and i decline
rs name… is Necros Magic!!
Do NOT Post Here If Your Not Going To come To events OR Be Active
Dont both Registering!!!

TIME ZONE :GMT/EST/ALL
CLAN WORLD:
F2P :97
P2P :99
Forum Link:
SshadowWarriors/index.php?
REQUIRMENTS:
75+ Combat —
80+ Range / Mage If Combat Requirments Not Met[ul]
[li]If you are…
[/li]
[li]Someone Who Flame's Other Clans…
[/li][li]Scared To Lose Rune…
[/li][li]Wont' Be Active
[/li]
Then Don't Both Registering On our Forum
[/ul]Hi, I come from Shadow Warrior's.SW Is A Clan that is Going Great.
If your Looking For a Clan, No worry's, No problems, Just Having Pure Fun and Hanging
Out, Owning People In the Wild…
You'll Fit in This Clan Very Well.
Clan Name:Shadow Warriors (SW)
Clan Combat Average: 90.4
Clan Hitpoints Average: 74.8
Clan Member Count: 17
War Record: 1 - 0
Fun War/Mini War Record: 0 - 0
SW EVENTS
Kalphite Queen (Drop Shared)
King Black Dragon
Snowball Fights
Mini Wars
Fun Wars
Official Wars
F2P PKING
P2P PKING
Castle Wars
Fight Pits
There Are Space's Open So Apply And get A good rank Before The Clan has 100+ Member!
Leader: Arnan1991 (99 CB)
Co-Leader:RichyRich75 (115 CB)
Co-Leader:Homies43 (95 cb)
Warlord: Teazer1(90 + range)
High Council:thewhiteboy1 (86 CB)
Recruiter:Smallskull99 (84 cb)
Recruiter:Steven B13
F2P or P2P: [i]Our clan includes both free players and members. We do our best to
have both f2p and p2p clan activities To make It fair We Make Sure both f2p and p2p event
funs.[/i]
Events: [i]Not interested in PKing? Looking for a relaxing, enjoyable time just
hanging out with other players? We have a very active event team that keeps us all busy
with fun activities. Some examples of these include Fight Pits, Kalphite Queen Trips,
Barrows Trips, Caste Wars, Drop Parties, Fun Wars.[/i]
PK Trips: [i]THE REAL SPORTS OF RUNESCAPE! This is No Event For the lil'Livered,
Pumping Adrenaline Threw The Body Hounding For Action In the Wild, Chasing Someone
Watching Them screem Away! Getting those Free Rune and Items 1 Step At a time to becoming
An Elite Pker, Nothing's Stopping You![/i]
How to Join:
[b]1. Go to the our site and READ THE RULES.
3. Click on the "Apply" forum.
4. Read the "Requirements and Application Form" topic and COPY the application form.
5. Go back to the "Apply" forum and click "New Topic"
6. PASTE the form into the new topic and fill out all information. Then click submit.
7. Make sure to register for an account on our forums by clicking the "Register" button
on the forum index page. Please use your runescape name when registering but[/b]
NOT your runescape password!
Hello i am the leader of the assassins of night clan we have around 48 (1 unregistered) members. Our highest level is 95. I'm level 95. Our average is about 75. We have a new forum so not every1 has regestered there. Our website is http://assassinsofnight.myfreeforum.org. we have many events including castle wars, tzhaar fight pits, f2p pk trips, we will do p2p when we get more people coming regurly, kbd, 'fun events, fundraisers, drop partys for some holidays, and you can host your own event just don't overlap any other events pre plannedthat are posted. Requirements is level 40+ though some exceptions may vary. Lvl 30+ with a Referall. Our clan treasury holds 203k
Allies:
Ze Bloodz
These are just some i just started taking pics last events so only ones i have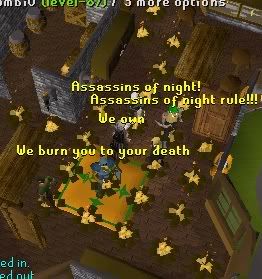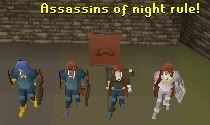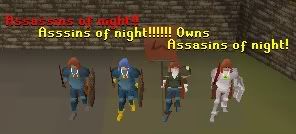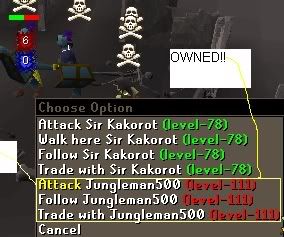 Join Runescape's Magical Order: A Runescape mage clan
Your mage is 60, you could become a high rank member of our clan.
Our clan members are specialized in mage and runecrafting.
More info on our website
Well, we do have pking trips in the wildy, BUT there are tons of other things you can enjoy with us if you decide not to go to the pking trips.
Join Saradomin Soldiers
Introduction

How to Apply

How to Allie

Events

Conclusion

Introduction
Hi I have just started this clan April 15th!! We are new but when we get people I know we will be good!! Our cape color is blue for F2p and a sara cape or wildy cape that's blue for P2p!! We are F2p and P2p and you need 60+ combat or 55+ mage or range 50+ combat junior member!! IF YOU APPLY PLEASE REGISTER WITH RS NAME ONLY AND REGISTER BEFORE APPLYING!!
How to Apply
You must have 60+ combat or 55+ mage or range or 50+ combat junior member to join!! When you get to the forum then find apply here and copy and paste the application format into a new topic!! Then after you apply you must register and introduce yourself. The forums site is http://s9.invisionfree.com/Saradomin_Soldiers.
How to Allie
When you go to the forums then you find the forum alliance. After that you will copy and paste the application format into a new topic and wait till one of our leaders or co leaders to accept you. When you are accept you must register.
Events
We will have the events as follows!!!
Snowball Fight
Wars
Pk Trips
P2p Kalphite Queen
P2p KBD
Training Trips (any stat)
P2p Fishing Trawler
P2p Castle Wars
P2p Fight Pits
Monk Wars
Battle Royal
Chaos Element P2p
You can also Propose an Event that we could have if it sounds good!!
Pk trip Schedule!!
Pk Trip Mondays 6:30 EST World 6 P2p World 33 F2p
Pk Trip Wensdays 6:30 EST World 6 P2p World 33 F2p
Pk Trip Fridays 2:00 EST World 6 P2p World 33 F2p
Pk Trip Sundays 2:00 EST World 6 P2p World 33 F2p
Conclusion
That is all about the clan and I hope you like us and I will update are events when I get more and we get more active!! Please join us and have a great time!!
The Runescape Crusaders
If you want to join an organized, friendly, and wise clan with weekly events and PKing trips, look no further.
http://rscrusaders.com/index.php?act=home
Requirements:
60+ Combat with 50+ in Two Non-Combat Skills
60+ Combat with 70+ Mage or Range
50+ Combat with 2 Non-Combat Skills Over 60
Events:
Firefests
Gang Wars
Friendly Wars
Team Training
Clan Meetings
Snowball Fights
Congratulation Parties
Pking:
Weekly Trips
Usually Friday & Sunday
F2P and P2P Pking
Multi Combat Zones
Drop Parties:
Fueled by donations, and Pking trip drops.
Our last Drop Party was well into the Millions mark for worth.
Very Organized and Fair
Possibly Questions for Prizes
So again, if you are looking for an active clan with many events, and very helpful at that look no further.