looking for a good clan, decent stats, if you want my stats see sig
Join the Nemesis Warriors!
Leaders
Awaisy2003 (100) and Foshegro (106)
Warlord
Innovation25 (101)
PK Leader
Solomize (114) and Phoenixkorix (112)
High Council
Chicken230 (91), Storageman4 (97), Crazepigpush (103)
Requirements
80+ Combat
78+ Combat with 80+ Magic
78+ Combat with 80+ Range
Clan Statistics
40+ active members
92 Combat Average
Events
-PK trips
-Mini and Full out Wars
-Interclan fun wars
-Drop Parties
-KBD Trips
-KQ Trips
-Firefests
-Fight Pits
-Skill Drives
-HP Competitions
-And many more!
Leaders' Expectations
The leaders expect you to be active on the forums as well on RS. You must be a loyal member.
Other NW Information
The Nemesis Warriors have been around for one year. We are an 80+ clan currently, our highest being 114 at the moment and is led by Awaisy2003 and Foshegro. We've been through some good times and many hard times but we are now stronger than ever. Nemesis Warriors are in the stage of making a big impact on the clan world. This is the dawn of NW's era so join the revolution.
Clan Rules
Please refer to the clan rules section of our website, located here: http://s9.invisionfree.com/Nemesis_Warrior…topic=4053&st=0
Failure to abide by these rules will result in punishment according to the severity of the crime.
Picture Gallery
Mini vs. Insomnia
Inner-clan Mith War
Fire Fest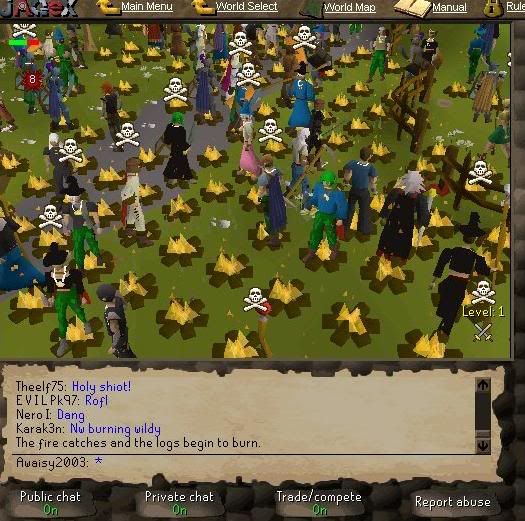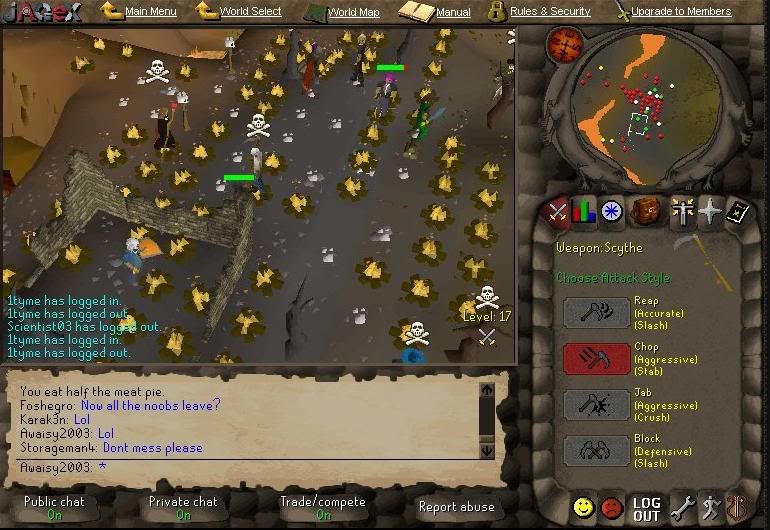 Pk Trips
Fullout vs. CKR
Fullout vs. FOS
JOIN TODAY!
Join Saradomin Soldiers
Introduction

How to Apply

How to Allie

Events

Conclusion

Introduction
Hi I have just started this clan April 15th!! We are new but when we get people I know we will be good!! Our cape color is blue for F2p and a sara cape or wildy cape that's blue for P2p!! We are F2p and P2p and you need 60+ combat or 55+ mage or range 50+ combat junior member!!
How to Apply
You must have 60+ combat or 55+ mage or range or 50+ combat junior member to join!! When you get to the forum then find apply here and copy and paste the application format into a new topic!! Then after you apply you must register and introduce yourself. The forums site is http://s9.invisionfree.com/Saradomin_Soldiers.
How to Allie
When you go to the forums then you find the forum alliance. After that you will copy and paste the application format into a new topic and wait till one of our leaders or co leaders to accept you. When you are accept you must register.
Events
We will have the events as follows!!!
Snowball Fight

Wars

Pk Trips

P2p Kalphite Queen

P2p KBD

Training Trips (any stat)

P2p Fishing Trawler

P2p Castle Wars

P2p Fight Pits

Conclusion
That is all about the clan and I hope you like us and I will update are events when I get more and we get more active!! Please join us and have a great time!!
Do NOT Post Here If Your Not Going To come To events OR Be Active Dont both Registering!!!

Remember to say Steven B13 recruited you, when posting application
TIME ZONE :GMT/EST/ALL
CLAN WORLD:
F2P :92
P2P :91
Forum Link: http://s12.invisionfree.com/RSshadowWarriors/index.php?
REQUIRMENTS:
75+ Combat —
80+ Range / Mage If Combat Requirments Not Met
* If you are..

* Someone Who Flame's Other Clans..
* Scared To Lose Rune..
* Wont' Be Active

  Then Don't Both Registering On our Forum

Hi, Im Leader Of Shadow Warrior's.SW Is A new Clan And Are Going Great.
If your Looking For a Clan, No worry's, No problems, Just Having Pure Fun and Hanging Out, Owning People In the Wild…
You'll Fit in This Clan Very Well.
Clan Name:Shadow Warriors (SW)
Clan Combat Average: 91.313
Clan Hitpoints Average: 75.467
Clan Member Count: 21
War Record: 0 - 0
Fun War/Mini War Record: 0 - 0
SW EVENTS
Kalphite Queen (Drop Shared)
King Black Dragon
Snowball Fights
Mini Wars
Fun Wars
Official Wars
F2P PKING
P2P PKING
Castle Wars
Fight Pits
There Are Space's Open So Apply And get A good rank Before The Clan has 100+ Member!
Leader: Arnan1991 (99 CB)
Co-Leader: Cutie B (108 CB)
Co-Leader: Richyrich75 (113 combat)
Co-Leader: Homies43
Warlord: Teazer1(90 + range)
Global Mod: Smallskull99
Recruiter:Steven B13
F2P or P2P: Our clan includes about 50% free players and 50% members. We do our best to have both f2p and p2p clan activities To make It fair We Make Sure both f2p and p2p event funs.
Events: Not interested in PKing? Looking for a relaxing, enjoyable time just hanging out with other players? We have a very active event team that keeps us all busy with fun activities. Some examples of these include Fight Pits, Kalphite Queen Trips, Barrows Trips, Caste Wars, Drop Parties, Fun Wars.
PK Trips: THE REAL SPORTS OF RUNESCAPE! This is No Event For the lil'Livered, Pumping Adrenaline Threw The Body Hounding For Action In the Wild, Chasing Someone Watching Them screem Away! Getting those Free Rune and Items 1 Step At a time to becoming An Elite Pker, Nothing's Stopping You!
How to Join:
Go to the our site and READ THE RULES.
Click on the "Apply" forum.
Read the "Requirements and Application Form" topic and COPY the application form.
Go back to the "Apply" forum and click "New Topic"
PASTE the form into the new topic and fill out all information. Then click submit.
Make sure to register for an account on our forums by clicking the "Register" button on the forum index page. Please use your runescape name when registering but NOT your runescape password!
Hi
We are the phoenix fighters; we aim at levels 40+ but those slightly less that 40 can enter.
If you are interested please fill out the application below.orcontact me (elvivo1) on the game
Username:
Combat lvl:
Range lvl:
Mage lvl:
Best non combat skill:
Will you be loyal? :
what is you time zone?:
Will you donate to the clan?:
—Rules—
Follow jagex rules
Respect any other member
Trouble makers will be thrown out
No multi-clanning
Have fun =D
Punishments vary from having to do tasks for the clan and being permanently banned.
—Members—
----Leader—
elvivo1 (that's me=D )-combat 58
—Second in command—
—chriswppaul13—lvl93
—members—
— elvivo1 — Level 58
—chriswppaul13—lvl93–
—kailin190—43—
—stephenyoung—
—heartofspite----
----hotrod787----
—manderin333—
—jonnyc55—
—4o def ownz—
—jfizzo----
—stargate kid—
–n k puremage—
—cute n wild7—
—p kaustin—
—doobie—
—Permanently banned members—
—jgover0—
----Timetable—
We go by GMT (Greenwich Mean Time)
This is the u.k.
We allow any1 from any countries but it is up to you to join clan activities.
All meetings held world 105(non-mem) at our head quarters which is at edgeville upstairs the general store. All meetings and events are held by GMT.
Monday-clan meeting-7pm -at HQ
Tuesday-day off
Wednesday-short pking trip, or another option chosen by members, meet at HQ 7pm.
Thursday-train up a skill of your choice.
Friday-clan meeting-7pm HQ
Sat-long pking trip! 7pm, meet at HQ.
Sun-day off
TUP (The Ultimate Pkers) is having a recruit run! Make sure to join them they are also in a stage of fun wars where we are declaring fun wars tons like 1-2 every week!
The Requirements: 65+ Combat OR 55+ Range OR 55+ Magic.
The requirements might have a change but if you sign-up before the change is done you WON'T get kicked out.
Our allies:
Clan heavy blade
The guthix clan
Pack of pride
Clan Forum: http://s13.invisionfree.com/ultimate_pkers/index.php?act=idx
Brief clan history:
Well our clan first started on September 3rd 2005. We started opening up our recuitments and having pk trips shortly after. Bye december we had almost 100 members, but then tragety struck as the s13 invision servers crashed. Due to not being able go on the forums we lost many of our members who thought the clan was finished. By the end of January when we had set ourselves up as a clan we found our first enimies Demons of Runescape. We crushed them quikly before they new what they were doing the war was over. Now we still are gaining members and allies. Recently we have had war declared by the uff movement however they have pretty much fell apart so we have not had our war with them.
Our current war record is 1 Win 0 Loss 0 Ties and 2 that never fought us.
As i have mentioned earlier we have started a war run and we have 2 wars kind of scheduled this week we just need to find out the time and place.
I hope you like the clan and have a nice stay!
-Wizard wusa
the clan posted a couple up from here,shadow warriors, is a very good clan, I think you would enjoy it very much, and you're stats are nie, but think of how much more you would own in the wild with quite a few 100+'s
SHADOW WARRIORS ~ SW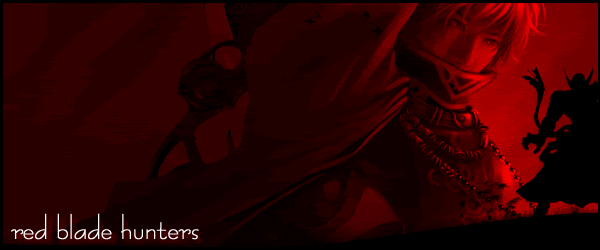 Clan Website: www.redbladehunters.co.uk
The Red Blade Hunters clan is a fast-growing and powerful 65+ Combat clan, with dedicated, active members and a strong, undefeated war history. With regular PK trips, non-combat activities and an active, friendly forum and community, it's no wonder that RBH is one of the best clans of their level out there.
Our clan is friendly to many different timezones, including GMT, EST and AEST.
Leaders
Gangsterprt2| Benjiben10
CHC999 Evil
War Officers
Kamamakazii
Lower Council
Faelenof | Neogeoeugene
Our requirements are: (you only need one to qualify)
65+ Combat
60+ Combat with 72+ Strength
60+ Combat with 72+ Mage
60+ Combat with 72+ Range
To join RBH, just register on our forums (www.redbladehunters.co.uk) and post a new topic in the 'Joining' forum, filling out the following application form:
RS Name:
Type of Fighter:
Combat level:
Mage, Range or Strength lvl:
Defence:
Best Non-Combat Stats:
Previous Clan(s):
Why did you leave your previous clan(s):
How did you find out about this clan:
Why do you want to join this clan:
What city/country do you live in:
Did you know if you dont post three posts a week you will be kicked from the clan?: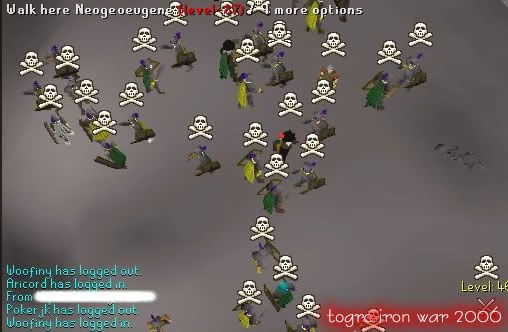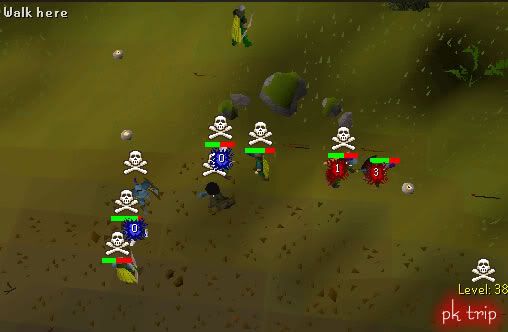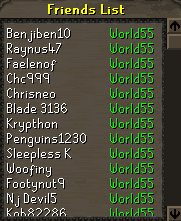 Join RBH today!
Clan Website: www.redbladehunters.co.uk
We are a brand new clan. We are currently undecided if its a pk or anti-pk clan. Myself, the leader, used to be part of the wilderness guardians till i quit rs for a bit and left the WG. We have a clan website that is there for information.
s9.invisionfree.com/theforsakenclan
please go on it and apply for it if u meet the requirements.
Current requirements are:
70+ combat
or
60+ combat with 60+ range or 60+ magic
or
65+ woodcutting and/or 50+ Fletching(Members Only)
or
50+ cooking and fishing(for now)
or
50+ mining and smithing(for now)
When we have many members we will do anual events such as drop parties, Kalphite Queen runs(members only), treasure hunts, KBD trips(members only)
and Pk trips(if we decide to be pk clan, plus occasional clan wars.
I will be assigning leaders and mods for the clan and website, so the first few to join if they wish may become 1 of these if they are worthy of the spot
Hello i am the leader of the assassins of night clan we have 47 (one unregistered) members. I'm level 93. Our highest level is 101. Our average is about 78. We have a new forum so not every1 has regestered there. Our website is http://assassinsofnight.myfreeforum.org. we have many events including castle wars, tzhaar fight pits, f2p pk trips, we will do p2p when we get more people coming regurly, kbd, 'fun events, fundraisers, drop partys for some holidays, and you can host your own event just don't overlap any other events pre plannedthat are posted. Requirements is level 40+ though some exceptions may vary. Lvl 30+ with a Referall.
Allies:
Ze Bloodz
These are just some i just started taking pics last events so only ones i have