Woot I got a robin hood! With the help of MichaelKs I got my dream, got it for 1.6 mill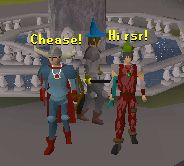 congrats wraith, u rele deserve it:)
Thank you! I am so happy!
you should walk around showing it off that would be hilarious
and have a parade of ppl with the same hood
Lol and somehow I spelt cheese wrong XD… Lol I hate typos…
Congrats on achieving your dream
~:darkside:~ Michaelks
so for how long have you wanted this hood/hat for?
Well, simple yet accuratly i say " Congratz hope, you enjoy it!"
Lol, Runescape hasn't been out that long yet dude, calm down…
Ah ha. You seem REALLY eager about owning this hat… Also how did michaelks help you get it?
:jester:
I needed 100k more to buy it, and he lent it to me, in return I gave him Red mystic Gloves, Ring of life and wealth
Aw that's so nice of michaelks! Lol he sounds like a good guy.
:jester:
congratz on getting a robin, thats a pretty good acomplishment
Thank you XD And Malibu, he is a great guy!
Congrats!
So that's what that gold that you showed me was for… =P
not too spoil yer fun or anythin dude…but remeber…if u die…ull lose it
mumbles to himself I offer my advice, but does he take it? He could have invested it, made way more… mumble, mumble
~ ewok
I was gonna lend you cash but im thinking about saving mine for a pure mage.